FONDO FORESTALE ITALIANO
we preserve existing forests and create new ones
Fondo Forestale Italiano is a charity which helps biodiversity preserving and creating woods. All woods are left in their natural state, with no commercial cuts. We use private property as a way to guarantee the best protection to our woods.
our project
The Italian Forestry Fund is a non-profit organization that preserves existing forests and creates new ones.
All forest will be left in their natural state, with no commercial cuts.
The association acts on lands of which it gets the property.
Private property is the best way to guarantee protection to forests. In the alternative, lands can also be received in commodates lasting several decades.
Association properties are environmental resources de facto belonging to local communities.
For that reason properties are managed by local people who, obeying to all association limitations, act as interface with local communities.
Activities of the associations deped on donations in money and land.
Land purchase and forestation activities are expensive, furthermore we don't  cut trees for economical purposes, we don't sell our lands nor our CO2 certificates in the carbon emission market.
The purpose of the Association is to contrast the causes and effects of climate change through forestation activities.
The Association buys lands to be forested or receives them from donations and testamentary legacies. The Association can also reforest areas received on loan or as concessions for a suitable period.
The Association can acquire lands that are already forested, in any structural stage, in order to ensure their conservation over time.
The forestry works follow in an interdisciplinary way the most modern criteria of science and environmental and landscape practice, so that the areas become covered with forests as autonomous as possible, limiting human interventions to a minimum.
The Association maintains the forests, both those created and those acquired, in their natural state with the ambition of never making cuts or other interventions tampering with natural dynamics. Cuts for commercial purposes are not allowed. Cuts that do not affect forest structure and which are limited to what is strictly necessary can be made on an exceptional basis, where this is provided for by the management plan or for security reasons, as long as this does not diminish the forest structure and the level of naturalness.
FFI Network
The network is made of FFI properties (78 hectares as today) and properties of other private people (201 hectares) who declare they will no log trees in their lands.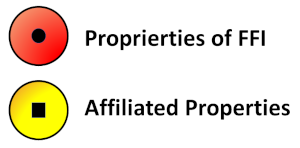 Support us in preserving biodiversity
Forests are preserved for children, but are planted for grandchildren
FFI builds a bridge towards next generations but buying forests and keeping them without logging doesn't return money!
FFI can do its job only with economic help from people and companies.